Foundation Skills Framework
Provides a common language for understanding of the basic skills, knowledge, and competencies adults need to obtain jobs
The Foundation Skills Framework, developed by Institute for the Study of Adult Literacy at Penn State in coordination with workforce development partners and stakeholders, provides a common language  and understanding of workforce preparation—or foundation—skills.  Through the use of the Framework, professionals and students alike gain a more clear understanding of the basic skills, and competencies adults need to obtain and retain jobs and advance to higher-paying jobs.  The Framework, visually represented as a wheel, has been used to build and plan workforce preparation and workforce education programs, help learners to set goals, develop curriculum and provide instruction, and informally document foundation skills achievement.
Foundation Skills Framework Resources Guide NEW
Career Information Checklists aligned to the Foundation Skills Framework NEW
Foundations Skills Framework Crosswalk to College and Career Readiness Standards (CCRS) NEW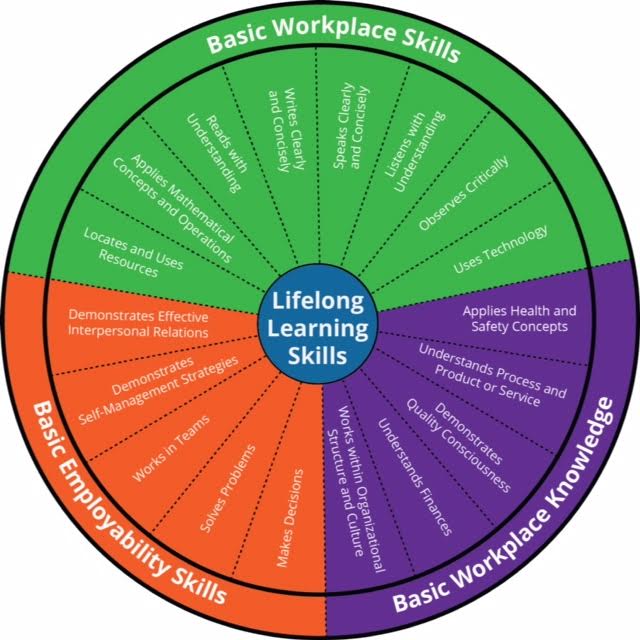 Foundation Skills Competency List – Detailed lists of competencies that were identified for each foundation skill to provide a structure to 10 identify specific areas to target in programs, 2) help students to set realistic and measurable goals, and 3) record and document progress and achievement.
Foundation Skills Self-Appraisal – Students self-assess their foundation skills and competencies to identify specific areas of strength and need. The results can be used to set learning goals, guide instruction, and informally assess progress.
Foundation Skills Program Checklist – Programs can use this checklist to assess which work-based foundation skills they currently address and should address in specific program areas of the agency.
Foundation Skills Rubric (original) – and Foundation Skills Rubric (revised) A guide to help ABLE practitioners to develop and use a scoring guide (rubric) to describe, observe, and document performance of the foundation skills and competencies on a continuum from "beginner" to "competent."  *Note: The wheel and competency lists were updated in 2016, and the revisions are not reflected in this publication.
Exploring Work-Based Foundation Skills in ABLE Classroom – This guide contains activities and resources to help adult learners to develop the work-based foundation skills and knowledge areas included in the Foundation Skills Framework. The guide can be used to supplement or expand the work-related components of an adult education program. The guide is divided into two main parts: Practitioner Section and Learner Guide.  *Note: The wheel and competency lists were updated in 2016, and the revisions are not reflected in this publication.